Geer Services now offers large format scanning up to 40 inches wide with our new Canon M40 Scanning system and imagePROGRAF iPF840 in Downtown Jacksonville, Florida.
The M40 scanner incorporates a Single Sensor assembly technology, which helps provide consistent and better color accuracy with more detail in the shadows and highlights than a staggered CIS array scanner.

The M40 Scanner Features:
1200 dpi optical resolution, 9600 dpi maximum resolution
Image scanning of up to 40″ wide (fits documents 41″ wide)
Scanning speed of up to 13 inches per second monochrome, 3 inches per second color
Scan documents up to 2.0 mm thick
Produce over-sized copies direct to our Canon iPF840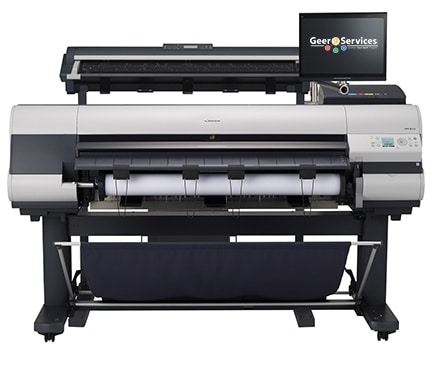 Types of materials that can be scanned:
Newspapers
Printed Documents
Aerial Photographs
Topographic Maps
Geologic Maps
Petroleum Maps
Color-coded or red-lined engineering drawings
Photographs
Posters
Renderings
Large Commercial Graphics
Drawings
Fine Art
Architectural
Large format drawing scanning
Blueprint scanning of architectural and construction plans
Engineering mechanical drawings
Engineering Drawings
Architectural Drawings and Inkjet prints
The M40 scanner contains a single component image sensor that is the full width of the scanner and has long life LED Bi-directional illumination. Full width image capture, as opposed to time delayed scanning of separate sections, means less risk of misalignment of scan data. LED's require virtually no warm up time and provide a wide and consistent color gamut, with low power consumption and there is less potential for shadowing at creases or folds. A single driven hold up roller provides even pressure across the scan width which means originals are less susceptible to folds or creases.
Call or stop by Geer Services today for your large format scanning needs in Downtown Jacksonville.