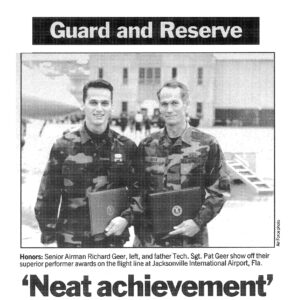 This photo was part of an Air Force Times article after a successful Operational Readiness Inspection. The two of us serving together was great and it was an honor to the be recognized as Superior Performers as father and son.
As business owners, we still try to help by supporting the USS Adams Naval Ship Museum, Wreaths Across America Jacksonville, Navy Wives Clubs of America, Jacksonville Ladies Jacksonville National Cemetery and most recently the Cecil Field MIA*POW Memorial.
Visit our Veterans Resources page to see other services available to assist veterans.
God Bless America!